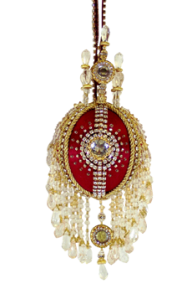 Sa Majeste' En Rouge
$90.00 $81.00 (10% off)
"Her Majesty In Red"
The first twenty-five kits of this ornament design will be signed by the designer and will also have the designation of the ornament number out of 25. Only the first twenty-five ornaments will be signed and numbered.
Stunning, absolutely stunning! Did you get to see Her Majesty In Red? Isn't she stunningly beautiful and is so graceful. How regal! How grand! She seems to float so effortlessly around the ballroom.
Your ornament of choice here is based on a lipstick red color three inch ball. Fourteen karat gold beads, gold rondelles with crystal rhinestones, and almost two yards of Swarovski crystals on plated gold chain, are just a few of the accents that give this ornament that look of luscious richness. For added flavor and intrigue, the beaded dangle trim on the ball rounds out the richness of this design. You do know, don't you, that Her Majesty is only seen in the very best and worthy surroundings and establishments!
It is true, so very true, Her Majesty is ready for the ball your highness.
---