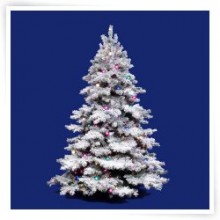 Several years ago a "home" type magazine published pictures of Christmas trees decorated in different fashions.  While all of the trees were very colorful and well executed, one decorated tree drew my attention immediately.  The tree was all white, from the top to the bottom.  It was illuminated with floodlighting.  All this whiteness was a beautiful backdrop to the space age design ornaments that an artisan had crafted.  The ornament reminded me of a space age satellite.  There was a colorful center ball with multiple colored skewer type rods sticking out of the central core.  The skewer ends were tipped with a much smaller, round, glass ball ornament.  It was so space age looking.  Several of these colorful ornaments adorned the tree.  If my memory serves me correctly, the colors included turquoise, chartreuse, azure blue and metallic silver.  It is possible there were other colors, but those four colors were permanently etched into my memory.  One of these ornaments also adorned the very top of the tree.
Since our family was financially unable to afford to purchase these large ornaments, I was doomed to have to make my own if I wanted that look for our tree that year.  I was able to do just that.  I thought our decorated tree was beautiful.  This tree was quite a departure from the traditional looking Christmas trees preceding this one.
Fast forward now to when, as an adult, I happened upon packaged beaded ornament kits in a Lee Wards craft store.  A "Styrofoam" type product served as the base and beads, sequins, and ribbons rounded out the contents to make the ornaments.  Because we now had a child, I thought that it would be nice to make a special ornament for my daughter each year for her to have and be all her own set of ornaments.  As the family grew, so did the number of ornaments we had to make.  It was great to watch the children with wide eyed wonderment and excitement as they placed each ornament in a special place on our family tree.  This was a very exciting moment in time for them.
The next level in my work with beaded ornament kits occurred when I saw an advertisement in another "home" type magazine for very lavish looking beaded ornaments. Though it was a slight stretch to our budget to order the kits, I began with one and was taken to a whole new level of design and attention to detail.  This ornament source then became the preferred choice.  The ornaments became the yearly "surprise" as we decorated our tree.  We soon had three children so that necessitated our having to buy three kits each year.  What was at first a little extravagant became a must have item so we budgeted accordingly for them.  The artful master designer of all of these ornaments provided many great choices and you felt as if you had to have them all.  These ornament kits also provided many great insights into the various construction methods.  A few methods were very challenging.
Our children were now young adults and starting to go out on their own.  Can you guess what items they wanted to take with them for their new living quarters?  You are correct they wanted to take their ornaments with them!  To this very day they display them proudly with all the ornaments they have amassed since.  Each placement of each ornament brings out, "Do you remember —-?"  Now they are passing on this same tradition.  Two of the new husbands have joined in now and give their wives a special ornament each year.
The next step was almost too logical.  I enjoyed crafts and making the ornaments and even liked the discipline required to make the balls into ornaments.  One certainly has to be detail oriented, able to follow directions, be precise in measuring, and love the sense of accomplishment.  All of these elements led to my deciding to try to make my own creations (designs) come to life.  There are some who say that you have to be a little insane to get into making these ornaments.  I certainly do not agree! Now the idea of gifting to another has a whole new meaning for me.
I share my designs with you  and hope you enjoy them.  The technique of adding your own photos to the balls and ornaments give them a super special meaning.  Being able to construct an ornament for other "special occasions" is also a new possibility now.   I have decided to add to the "beaded ornament" repertoire of choices a new twist with the issue of Bonhomme De Neige , the Snowman.  Now, that is one tall ornament! It is 10 inches tall!
Return often to see the new designs that I will be adding to our list.  Enjoy looking at the eye candy and perhaps you too may want to try your hand at putting together a few of our offerings.
---