If you would like to view general directions for each kit please go to the Directions button or click here.
If you would like to view some sample instructions on making an ornament please go to the Instructions button or click here.
If you would like some helpful tips on lessons learned the easy way (and in some cases the hard way) please go to the Smith Tips button or click here.
SOME OF THE TOOLS USED IN MAKING THE ORNAMENTS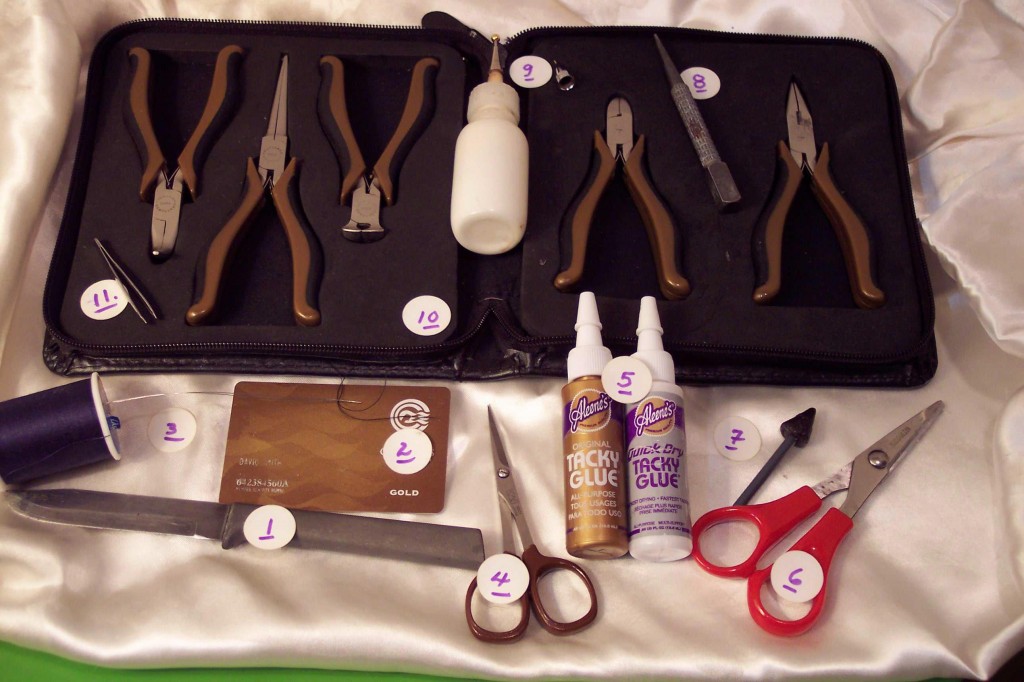 These tools are not included in any kit.
You may find the following tools helpful in your completion of the ornament kit.
1. Paring knife. Used to help lift glued adornments from a flat surface like on a credit card or other smooth surface.
2. Old expired credit card.
3. Beading needle for stringing on several beads.
4. Slim nose scissors for light detail cutting.
5. Types of tacky glue that dry to almost clear.
6. Heavier duty scissors for heavier cutting and for snipping between rhinestones on rhinestone chain.
7. Jewel dauber. Used to pick up rhinestones and place on design. Sometimes a wet pencil point will work just as well.
8. Carpenter's nail set.
9. Glue dispenser with a 0.7 metal tip and to the right is a metal tip size 0.5. Note the pin in the tip – it fits exactly so never lose it!
10. Assortment of tools to be used in various bending and cutting activities. This set happens to be from the local Sears hardware department – I like the idea of having a case for keeping the tools organized and handy. Zippered case is great!
11. Tweezers. This tweezer tool is small but larger ones are ok too.
EXAMPLE OF A KIT CONTENTS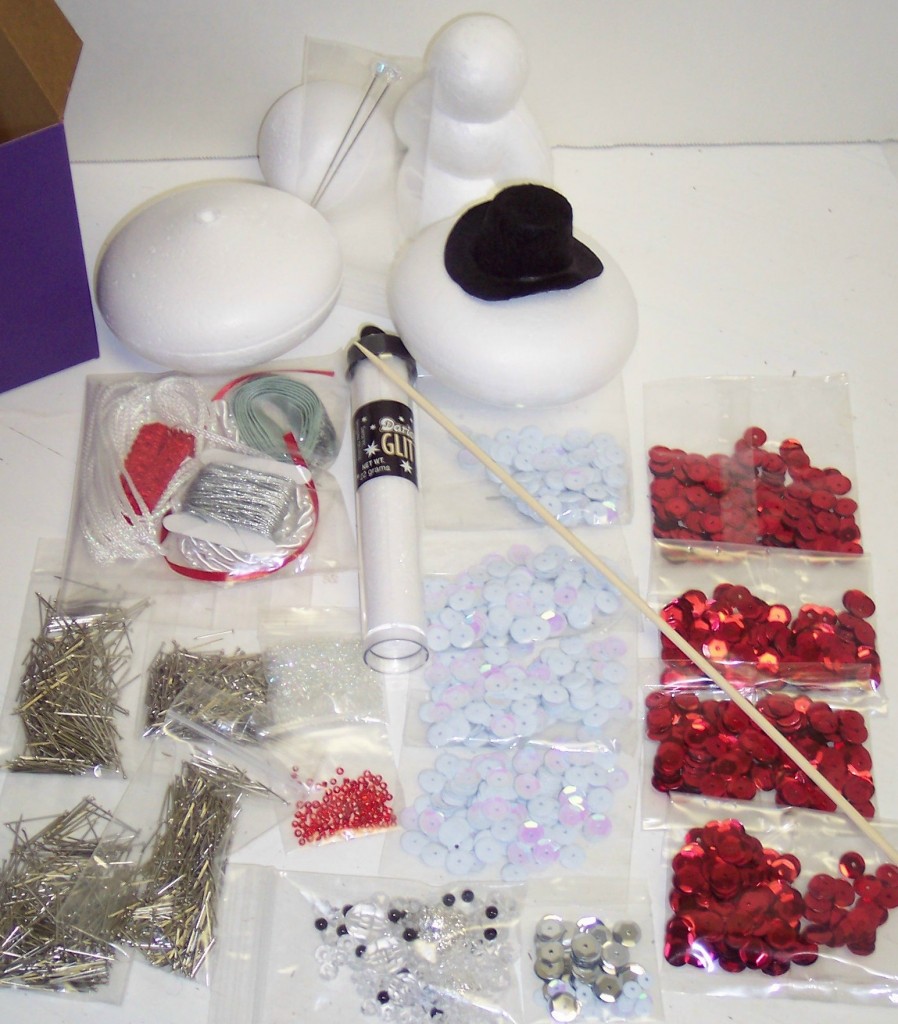 Here is a photographed example of the kit contents for the ornament Bonhomme De Neige. Note, if you will, the special packaging effort we take in putting together our kit contents. A few related units have been packaged together for your convenience. Please note that you do not receive all of the kit contents, such as the pins, sequins, beads, and findings, lumped together in just one plastic bag. We think you will really appreciate our efforts. We strive to include the correct amount of materials in each package that you will need for the ornament. In some cases a few extra pieces are added where we feel that it is possible to accidentally "misplace" a single item such as a bead or sequin. As you work constructing the ornament you will need to take special security measures with the contents in order to protect their number and their becoming "lost".
---