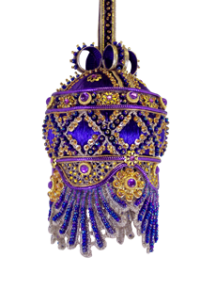 Sa Majeste' De Paris
$43.00 $38.70 (10% off)
"Her Majesty Of Paris"
The first twenty-five kits of this ornament design will be signed by the designer and will also have the designation of the ornament number out of 25. Only the first twenty-five ornaments will be signed and numbered.
Created on a 3 inch ball, the Victorian style Venice lace serves as the stabilized background for this ornament piece. The design of the lace has helped exaggerate the embellishment of the lace with beads, rhinestones, cording, and metallic gold findings. That pansy purple underlying ball helps accent the purples and gold of the superficial decorations.
This ornament, and you, will have to endure many questions and a lot of oh's, ah's, and oh how beautiful! Don't you just love getting compliments?
Yes, Sa Majeste' De Paris welcomes all compliments about her style, grace, good looks, and impeccable good taste in her choice of how to present the whole package so flamboyantly.
---