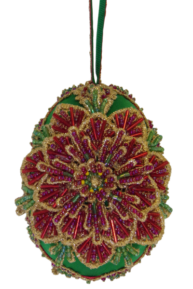 Poinsettia
$48.00 $43.20 (10% off)
Once this lovely Christmas ornament design has been constructed it will measure approximately 3+1/2 inches wide by 7+1/2 long (includes hanger length). Other components of the ornament kit include colorful and metallic ribbon lengths, metallic gold Venice lace shapes, and approximately 1200 beads. Some of the beads have an aurora borealis coating that provides a mesmerizing range of the basic red and green colors. The beads are sewn onto the lace shapes using needle and thread for added security. The directions for the sewing portion of the construction is presented as simple task. The colors used in this ornament are red, emerald green, gold, and yellow. The base shape of the ornament is an emerald green, fiber wrapped, egg shape.
How the Poinsettia Became the Official Plant of Christmas
The beautiful red and green plant we all recognize today as the Poinsettia has a long, foreign, and interesting history. Though many Christmas plants and other flowers are associated with the American Christmas holiday, the beloved Poinsettia has some deep historical roots that might really surprise you.
The lovely plant you place in your home every December was used at one time as a cure for fevers. Poinsettias are a Central America native, the plant flourished in areas of Southern Mexico long before Christianity came to the Western Hemisphere. The ancient Aztecs found it blooming in the tropical highlands during the very short days of winter and named it "Cuetlaxochitl." That plant was not all that decorative at the time. The Aztecs used the plant for practical purposes, as they did with many elements of nature. They extracted purple dye from it for use in cosmetics and used the latex-like material of the plant to tribesmen with fevers.
Items Not Included In Any Kit: Your kit does NOT contain commonly available tools or supplies that may be needed such as specialty needles, ordinary sewing threads, wire cutters, needle-nose pliers, or flexible tape measure devices, glue, or paints.
Your ornament CONSTRUCTION DIRECTIONS will be delivered digitally as a .pdf file in an EMAIL after confirmation of payment. The instructions are written in standard American English.
Pennsylvania Residents Pay 6% Sales Tax
We provide FREE SHIPPING to purchasers living in the 48 contiguous United States!!
Shipping to Canada: In Canada, buyers are responsible for paying duties, taxes, and applicable customs brokerage fees separate from the merchandise cost. Buyers will generally pay these fees upon receipt of your shipment. Canadian buyers may be charged additional fees once they receive their package.
International Buyers – Use your choice of shipping services provided by our shopping cart or from on the website you found out ornament kits advertised.
Please Note: Import duties, taxes, and charges are not included in the item price or shipping cost. These charges are the buyer's responsibility. Please check with your country's customs office to determine what these additional costs will be prior to bidding or buying. An "extended area surcharge" may apply to
buyers depending on their international locations. Buyer is responsible for customs fees and may experience customs related delays. We do not cover international return postage. No returns, no refunds.
© All rights reserved. David A Smith Designs
---