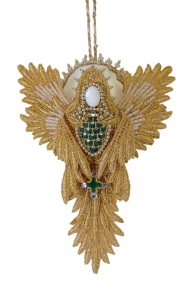 Angelic Intercession 2
$50.00 $45.00 (10% off)
The word "Angel" is derived from the ancient Greek word "angelos" for "messenger". "Intercession" is a 1500's Middle English word for the act of one entity pleading in behalf of another.
The halo of an angel is said to represent virtue and innocence. The wings are said to represent an Angel's role as a messenger travelling between Heaven and Earth. Originally Angels were not depicted with wings and the earliest example of a winged angel in art was in a 5th century mosaic in the church of St.Prudencia in Rome.
Your pair of angels, bearing gifts of emerald green, encourages you to communicate and share your inner wisdom to heal with kind thoughts, comforting words and boundless creativity.
The base for this ornament is a white fiber wrapped egg shape adorned and festooned with metallic gold Venice lace, faceted acrylic clear rondelles, a faceted acrylic chalk white oval jewel, white Ceylon seed beads, gold/white metallic cord, square emerald rhinestone, bugle beads, gold plated filigrees, iridescent sequins, and white/gold parachute braid.
The angel forms are constructed from wide metallic gold Venice lace sections, 3mm gold balls, crystal AB bugle beads, chalk white faceted gem, gold plated findings, faceted clear acrylic rhinestones, and faceted emerald acrylic rhinestones. The completed ornament is 8 ½" high (not counting hanger) and 6 inches wide.
The directions for this ornament have been greatly enhanced by our decision to include many more photos during the prototype construction phases. The instructions will come to you by email as pdf files in THREE separate parts. Our original set of instructions spanned the length of 30 single sided pages! The original "all in one" file, with photos, was so large that our computer program could only accept one third of the number of pages at a time for the files. We have also included a template page that will provide great help in constructing the angel forms. Enjoy this new method! You will now have another entity to consider as you compare our ornaments with others that are available. We hope you will consider the price, design, quality, and adequacy of the instructions when you are making your final decisions.
Items Not Included In Any Kit: Your kit does NOT contain commonly available tools or supplies that may be needed such as specialty needles, ordinary sewing threads, wire cutters, needle-nose pliers, or flexible tape measure devices, glue, or paints.
Your ornament CONSTRUCTION DIRECTIONS will be delivered digitally as a .pdf file in an EMAIL after confirmation of payment. The instructions are written in standard American English.
Pennsylvania Residents Pay 6% Sales Tax
We provide FREE SHIPPING to purchasers living in the 48 contiguous United States!!
Shipping to Canada: In Canada, buyers are responsible for paying duties, taxes, and applicable customs brokerage fees separate from the merchandise cost. Buyers will generally pay these fees upon receipt of your shipment. Canadian buyers may be charged additional fees once they receive their package.
International Buyers – Use your choice of shipping services provided by our shopping cart or from on the website you found out ornament kits advertised.
Please Note: Import duties, taxes, and charges are not included in the item price or shipping cost. These charges are the buyer's responsibility. Please check with your country's customs office to determine what these additional costs will be prior to bidding or buying. An "extended area surcharge" may apply to
buyers depending on their international locations. Buyer is responsible for customs fees and may experience customs related delays. We do not cover international return postage. No returns, no refunds.
© All rights reserved. David A Smith Designs
---