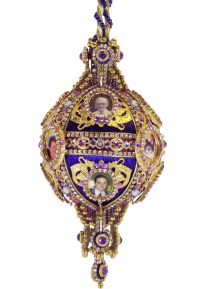 La Famille Royale
$130.00 $117.00 (10% off)
"The Royal Family"
The first twenty-five kits of this ornament design will be signed by the designer and will also have the designation of the ornament number out of 25. Only the first twenty-five ornaments will be signed and numbered.
No matter whom or what you choose to honor in this ornament it will be your idea of THE Royal Family!
Hamilton gold plated metal ornamentation and gold plated chain with Swarovski crystals make this ornament a real "WOW". The gold beads are even 14kt. gold plated. This ornament was designed to be a statement ornament and a generational keepsake. It deserves to be passed on to future generations when you no longer have a use for it.
Whom will you honor with the presentation of this heirloom ornament? It is not inconceivable that you could do a series of these ornaments by beginning with the first ornament honoring your ancient ancestors, first ancestors on your continent or in your country, and then complete your series with your present "Royal Family" members. Wouldn't this ornament make a great family presentation to your next generations as they unfold and YOU will pass on the tradition of honoring all generations of your lineage.
What a loving and lovely gift to present to a neighbor or very close friend. This treasure can also solve that age old problem of what can I buy, get, or do for them. Let your imagination soar!
I am aware that the price of this kit is considerable, but consider the fact that you are creating a legacy piece and not a soon discarded gift!
---