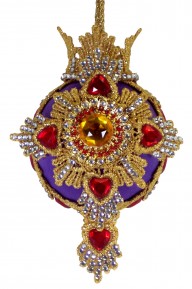 Gloria!
$33.00 $29.70 (10% off)
The first twenty-five kits of this ornament design will be signed by the designer and will also have the designation of the ornament number out of 25. Only the first twenty-five ornaments will be signed and numbered.
Whether by browsing the internet, by reading a book, or by traveling to Rome, one should acquaint themselves with the fantastic art found in Saint Peter's Basilica in the Vatican. The architecture, sculptures, stained glass, and other art forms are truly inspirational and sensational.
When walking toward the Throne of St. Peter from the main entrance of the church, a viewer first sees the importance of the stained glass window Dove of the Holy Spirit, which is a part of The Throne of Saint Peter as it is framed by Gianlorenzo Bernini's Baldacchino. You may have seen the Baldacchino (an altar structure) on television if you have viewed a coronation of a Pope that was televised.
The Throne of St. Peter is a huge Baroque sculptural composition behind the altar in the apse of the Basilica. It is over 100 feet tall and is constructed of white and gilt stucco, marble and stained glass.
Viewing the stained glass portion is an awesome and jaw-dropping experience. One can easily become mesmerized by this central focal portion of the Throne of St. Peter. It is a "once in a lifetime experience" that one will not soon forget.
The central focal point of a round topaz colored rhinestone in this ornament reminds me of my encounter with seeing the Dove of the Holy Spirit at the Vatican. May your experiences in life be inspirational and sensational as you walk life's path.
"Angels we have heard on high, sweetly singing o'er the plains, and the mountains in reply echoing their joyous strains. Gloria, In Excelsis Deo." This refrain repeats itself over and over again in my brain as I look at and enjoy the completed piece.
---