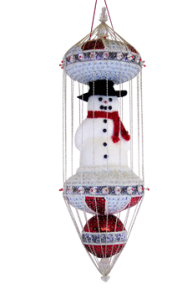 Bonhomme De Neige
$45.00 $40.50 (10% off)
"Snowman"
The first twenty-five kits of this ornament design will be signed by the designer and will also have the designation of the ornament number out of 25. Only the first twenty-five ornaments will be signed and numbered.
When our children were young, they used to play Christmas music during the holiday period. One of their favorite songs said:
"Here comes Suzy Snowflake dressed in a snow white gown. Tap, tap, tapping at your window pane to tell you she's in town. Here comes Suzy Snowflake, soon you will hear her say, 'Come out everyone and play with me, I haven't long to stay.' If you want to make a snowman, I'll help you make one 1,2,3. ——-."
Let us help you make a snowman, but it will take more than 1,2,3 steps! It is unusual to find this style of ornament in kit form. Enjoy the new challenge!
Please note this ornament measures 4″ wide and 12″ tall.
---