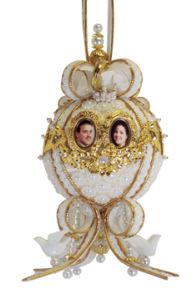 Amour, Honneur, Chérir
$80.00 $72.00 (10% off)
"Love, Honor, Cherish"
The first twenty-five kits of this ornament design will be signed by the designer and will also have the designation of the ornament number out of 25. Only the first twenty-five ornaments will be signed and numbered.
Imagine, if you will, blessing an event like a marriage, engagement, family, friends, anniversary, declaration of love, or friendship, honoring a deceased loved one, or the birth and through the ages photos of an individual, using this ornament format.
This ornament design follows from an original one of a kind commemorative ornament honoring my daughter's marriage. Though slightly different ornamentation has been used here, the form and functionality of both designs are one in the same. Both are created on a 3 inch white ball.
This completed ornament has the ability to stand alone or may be used as a hanging ornament. It will look great all year 'round on a shelf, under a glass dome, in a glass enclosed cabinet, or a special place of honor. This one can be displayed for a season or all year long. Picture using this ornament as a part of a featured display at a wedding reception, a bridal shower, an anniversary party, etc. The possibilities border on being endless. The decision will be yours.
You and your talent can make this ornament become a one of a kind presentation that the honored person will never forget. With each glimpse of your gift of this ornament by the honoree you will be fondly remembered. I guess it is really all about sharing, loving, honoring, and cherishing those whom we love the most. "Se la vie!"
---